Las prácticas musicales como corporización de tecnologías básicas de la cognición social
Palabras clave:
prácticas musicales, cognición social, cognición básica, tecnologías de la cognición
Resumen
Un primer objetivo del presente trabajo consiste en mostrar que, desde la perspectiva de ciertos modelos de cognición situada y corporizada para los que la cognición no consiste exclusivamente en el procesamiento de símbolos sino en patrones de interacciones concretas entre organismos y entorno, resulta natural considerar a las prácticas musicales como parte importante de las tecnologías de cognición básica que sirven de andamios para el desarrollo de una cognición social distintivamente humana. Un segundo objetivo es apuntar que esta reconceptualización de la cognición tiene implicaciones importantes para la manera en la que debe plantearse el estudio de la música, en tanto que rasgo (o fenómeno) cultural-cognitivo humano. Esta reconceptualización propone que el estudio de prácticas y tradiciones musicales es indispensable para llegar a un entendimiento cabal del papel de la música como factor importante (y no solo como epifenómeno) en la formación y mantenimiento de los complejos mecanismos que conforman la diversidad de prácticas que constituyen la cultura humana. El estudio de las prácticas musicales en un sentido amplio es una puerta de entrada al estudio de la manera en la que las capacidades cognitivas están socialmente estructuradas a través de actividades y prácticas, y en ese sentido, ese estudio contribuye a reforzar nuestro primer objetivo.
Citas
Álvarez Boada, M. (1985), La música popular en la huasteca veracruzana, México: Cultura Popular.
Ayotte, J., Peretz, I. y K. Hyde(2002), "Congenital Amusia. A Group of Adults Afflicted with a Music-Specific Disorder", Brain125: 238-251.
Blacking, J. (1974), How Musical is Man?, Washington: Washington University Press.
Cann, R., Kempson, R. y M. Lutz (2005), The Dynamics of Language: An Introduction, San Diego: Elsevier Academic Press.
Clancey, W. (1997), Situated Cognition. On Human Knowledge and Computer Representations, New York: Cambridge University Press.
Clark, H. (1996), Using Language, New York: Cambridge University Press.
Clayton, M. (2000), Time in Indian Music. Rhythm, Metre, and Form in North Indian Rag Performance, Oxford: Oxford University Press.
Clayton, M. (2013), "Entreinment, Ethnography and Musical Interaction", en Clayton, M., Dueck, B. y L. Leante (eds), Experience and Meaning in Music Performance, Oxford: Oxford University Press, pp. 17-39.
Clayton, M.,Sager, R. y U. Will (2004), "In Time with the Music: The Concept of Entrainment and Its Significance for Ethnomusicology", ESEM Counterpoint1: 1-82.
Condon, W. y W. Ogston (1966), "Sound Film Analysis of Normal and Pathological Behavior Patterns", Journal of Nervous and Mental Disease 143(4): 338-347.
Cross, I. (2001), "Music, Cognition, Culture and Evolution", Annals of the New York Academy of Sciences 930: 28-42.
Cross, I. (2008), "Musicality and the Human Capacity for Culture", Musicae Scientiae, Special Issue (Narrative in Music and Interaction)12(1) (Suppl.): 147-165.
Cross, I. (2011), "The Nature of Music and its Evolution", en Hallam, S.,Cross, I. y M. Thaut (eds.), The Oxford Handbook of Music Psychology, Oxford: Oxford University Press, pp.3-13.
Cross, I. (2012),"Cognitive Science and the Cultural Nature of Music",Topics in Cognitive Science4(4): 668-677.
Cross, I. (2013),"'Does not Compute?'Music as Real-Time Communicative Interaction",AI & Society 28(4): 415-430.
De Jaegher, H. y E. Di Paolo (2007), "Parcitipatory Sense-Making. An Enactive Approach to Social Cognition", Phenomenology and the Cognitive Sciences 6(4):485-507.
Enfield, N. y S. Levinson (eds.) (2006), The Roots of Human Sociality: Culture, Cognition and Interaction, Oxford, New York: Bloomsbury Academic.
Fiebich, A., Gallagher, S. y D. Hutto (2016), "Pluralism, Interaction and the Ontogeny of Social Cognition", Kiverstein.J. (ed.), Routledge Handbook of The Philosophy of the Social Mind, New York: Routledge, pp. 208-221.
Fowler, C., Richardson, M., Marsh, K. y K.Shockley (2008),"Language Use, Coordination, and the Emergence of Cooperative Action", en Fuchs, A. y V. Jirsa (eds.).Coordination: Neural, Behavioral and Social Dynamics, Heidelberg: Springer, pp. 261-280.
Gallagher, S. (2012), "In Defense of Phenomenological Approaches to Social Cognition: Interacting with the Critics",Review of Philosophy and Psychology 3(2): 187-212.
Gallese, V. (2003), "The Manifold Nature of Interpersonal Relations: TheQuestfor a Common Mechanism", Philosophical Transactions of the Royal Society B 358(1431): 517-528.
Gaser, C. y G. Schlaug (2003), "Brain Structures Differ between Musicians and Non-Musicians", The Journal of Neuroscience23(27): 9240-9245.
Gibson, J. (1986), The Ecological Approach to Visual Perception, New York: Psychology Press.
Giles, H., Coupland, N. y J. Coupland (1991), "Accommodation Theory: Communication, Context, and Consequence", en Giles, H., Coupland, J. y N. Coupland (eds.), Contexts of Accommodation: Developments in Applied Sociolinguistics, New York: Cambridge University Press, pp. 1-68.
Glowinski, D.,Gnecco, G.,Piana, S. y A. Camurri (2013),"Expressive Non-Verbal Communication in String Quartet. In Proceedings of Affective Computing and Intelligent Interaction (ACII)", Geneva: 233-238.
Hernández Azuara, C.(2003), Huapango. El son huasteco y sus instrumentos en los siglos XIX y XX, México: CIESAS.
Hesselink, N. (2011), "Rhythm and Folk Drumming (P'ungmul) as the MusicalEmbodiment of Communal Consciousness in South Korean Village Society", en Tenzer, M. y J. Roeder (Eds.), Analytical and Cross-Cultural Studies in World Music, Oxford: Oxford University Press, pp.263-287.
Hutto, D. y E. Myn (2013), Radicalizing Enactivism. Basic Minds without Content, Cambridge, MA: MIT Press.
Hutto, D. yG. Satne (2015), "Introduction: Searching for the Natural Origins of Content. Challenging Research Project or Benighted Quest?", Philosophia 43(3): 505-519.
Kelso, J.A.S. (1995), Dynamic Patterns: The Self-organization of Brain and Behavior,Cambridge, MA: MIT Press.
Kendon, A. (1990), Conducting Interaction. Patterns of Behaviorin Focused Encounters, Cambridge: Cambridge University Press.
Knoblich, G. y N. Sebanz (2008), "Evolving Intentions for Social Interaction: from Entrainment to Joint Action", Philosophical Transactions of the Royal Society B 363(1499): 2021-2031.
Leman, M. y P. Maes (2015), "The Role of Embodiment in the Perception of Music", Empirical Musicology Review 9(3-4): 236-246.
Lerdahl, F. y R. Jackendoff (1983),A Generative Theory of Tonal Music,Cambridge, MA: MIT Press.
Leroi-Gourhan, A. (1964), Le Geste et la Parole, Paris:Editions Albin Michel.
Martínez, S. (2010), "Science as Evolution of the Technology of Cognition",en Barahona, A. y H. Rheinberger (eds.), Preprint 392: The Hereditary Hourglass. Genetics and Epigenetics 1868-2000, Berlín: Max Planck Institute for the History of Science, pp. 97-109.
Mauss, M. (1936),"Les Techniques du Corps",Journal de Psychologie 32(3-4): 365-386.
McLucas, A.(2011), The Musical Ear: Oral Tradition in the USA, Burlington: Ashgate.
Meltzoff, A. y M. Moore (1983),"Newborn Infants Imitate Adult Facial Gestures", Child Development54: 702-709.
Merriam, A.P. (1964), The Anthropology of Music,Illinois: Northwestern University Press.
Moran, N. (2013), "Music, Bodies and Relationships: An Ethnographic Contribution to Embodied Cognition Studies", Psychology of Music41(1):5-17.
Narmour, E.(1992),"Harmonic Closure: Music, Theory and Perception",Music Perception9(4): 383-412.
Nussbaum, C.O. (2007),The Musical Representation: Meaning, Ontology, and Emotion,Cambridge MA: MIT Press.
Orwin, M.,Howes, C.y R.Kempson (2013),Language, Music and Interaction, UK: Milton Keynes.
Peretz, I. y M.Coltheart (2003),"Modularity of Music Processing",Nature Neuroscience6(7):688-691.
Rahaim, M. (2012), Musicking Bodies: Gesture and Voice in Hindustani Music, Middlentown, CT: Wesleyan University Press.
Rice, T. (2014), Ethnomusicology: A Very Short Introduction, Oxford: Oxford University Press.
Richardson, D., Dale, R. y N. Kirkham (2007), "The Art of Conversation is Coordination", Psychological Science18(5): 407-413.
Rosenberg, A. (2013),"How Jerry Fodor Sliddown the Slippery Slope to Anti-Darwinsism, andhow we can avoid the same Fate", European Journal of Philosophy of Science3(1): 1-17.
Sánchez García, R. (2002), "Diferencias formales entre la lírica de los sones huastecos y la de los sones jarochos", Revista de Literaturas Populares CENIDIM-INBA2(1): 121-152.
Schellenberg, E.G. (1997), "Simplifyingthe Implication-Realization Model of Melodic Expectancy", Music Perception 14(3): 295-318.
Shockley, K., Santana, M. y C.A. Fowler (2003),"Mutual Interpersonal Postural Constraints are Involved in Cooperative Conversation", Journal of Experimental Psychology: Human Perception and Performance 29(2): 326-332.
Tomlinson, G. (2015), A Million Years of Music: The Emergence of Human Modernity, Cambridge: Cambridge University Press.
Trehub,S., Becker J. e I. Morley(2015), "Cross-Cultural Perspectives on Music and Musicality", Philosophical Transactions 370:1-9.
Turino, T. (2008), Music as Social life: The Politics of Participation,London: University of Chicago Press.
Weidman, A. (2012), "The Ethnographer as Apprentice: Embodying Sociomusical Knowledge in South India", Anthropology and Humanism37(2): 214-235.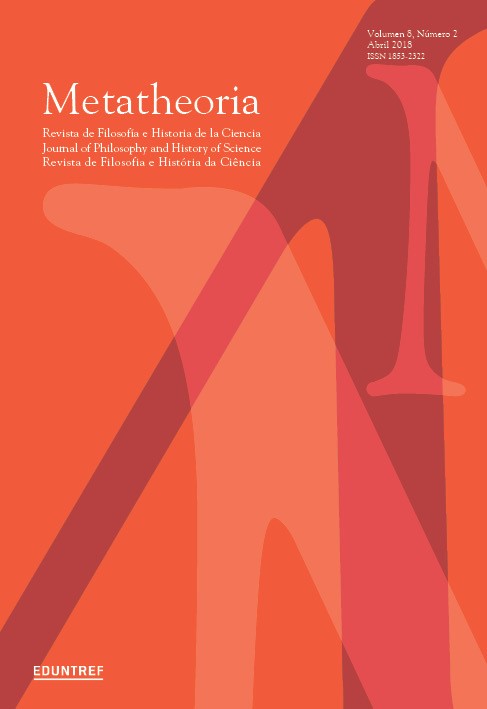 Descargas
Cómo citar
Martínez, S. F., & Villanueva Hernández, L. A. (2018). Las prácticas musicales como corporización de tecnologías básicas de la cognición social. Metatheoria – Revista De Filosofía E Historia De La Ciencia, 8(2), 1–14. https://doi.org/10.48160/18532330me8.171
Licencia
Los documentos aquí publicados se rigen bajos los criterios de licencia Creative Commons Argentina.Atribución - No Comercial - Sin Obra Derivada 2.5