Clases naturales en la neurociencia cognitiva: la controversia continúa
Palabras clave:
realizabilidad múltiple, clases naturales, neurociencias
Resumen
En este artículo analizamos algunas clasificaciones de la Neurociencias dando un espacio para evaluar, actualizar y mejorar nuestras ideas sobre el debate de la realizabilidad múltiple (RM) y las clases naturales (CNs) de la Biología. La realizabilidad múltiple, la posibilidad de lograr un fin mediante medios diversos o causalmente inesperados, ha sido una postura teóricamente incómoda en la ciencia, a pesar de haber permeado campos tan remotos como las Neurociencias. Se ha aducido que el éxito de las neurociencias se basa principalmente en cuatro supuestos: 1) las comparaciones entre especies, 2) la continuidad de mecanismos neurales entre éstas, 3) la unicidad de las funciones cerebrales, 4) la existencia de un sustrato neuronal común. En este artículo nos remitimos a evidencia extraída de neuroanatomía comparada entre especies, específicamente a las hipótesis y reglas de la evolución cerebral interespecíficas y al Proyecto del Cerebro Humano (Human Brain Project o HBP, por sus siglas en inglés) para cuestionar 1-4. Esto nos permitirá sostener que la realizabilidad múltiple no puede descartarse de la neurociencia actual.
Citas
Aizawa, K. (2009), "Neuroscience and Multiple Realization: A Reply to Bechtel and Mundale", Synthese167: 493-510.
Bechtel, W. y J. Mundale (1999), "Multiple Realizability Revisited: Linking Cognitive and Neural States", Philosophy of Science66(2): 175-207.
Bechtel, W. (2008), Mental Mechanisms: Philosophical Perspectives on Cognitive Neuroscience, New York: Routledge.
Bickle, J. (1998), Psychoneural Reduction: The New Wave, Cambridge: MIT Press.
Boyd, R.N. (1990), "Realism, Approximate Truth, and Philosophical Method", en Savage, C.W. (ed.), Scientific Theories,Minneapolis: University of Minnesota Press, pp. 355-391.
Boyd, R.N. (1991), "Realism, Anti-Foundationalism and the Enthusiasm for Natural Kinds", Philosophical Studies 61(1-2): 127-148.
Boyd, R.N. (1999a), "Kinds, Complexity, and Multiple Realization", Philosophical Studies95(1-2): 67-98.
Boyd, R.N. (1999b), "Homeostasis, Species, and Higher Taxa", en Wilson, R.A.(ed.), Species: New Interdisciplinary Essays, Cambridge: MIT Press, pp. 141-85.
Boyd, R.N. (2000), "Kinds as the 'Workmanship of Men': Realism, Constructivism, and Natural Kinds", en Nida-Rümelin, J. (ed.), Rationalität, Realismus, Revision: Vorträge des 3. Internationalen Kongresses der Gesellschaft für Analytische Philosophie, Berlín: De Gruyter, pp. 52-89.
Craver, C.(2007), Explaining the Brain: Mechanisms and the Mosaic Unity of Neuroscience, Oxford: Oxford UniversityPress.
Ebbesson, S.O.E. (1980), "The Parcellation Theory and its Relation to Interspecific Variability in Brain Organization, Evolutionary and Ontogenetic Development, and Neuronal Plasticity", Cell & Tissue Research213(2): 179-212.
Ereshefsky, M. y T.A.C. Reydon (2015), "Scientific Kinds", Philosophical Studies172(4): 969-986.
Figdor, C.(2010), "Neuroscience and the Multiple Realization of Cognitive Functions", Philosophy of Science77(3): 419-456.
Fodor, J.A. (1974), "Special Sciences: Or the Disunity of Science as a Working Hypothesis", Synthese 28: 97-115.
Gallese, V., Fadiga, L., Fogassi, L. y G. Rizzolatti (1996), "Action Recognition in the Premotor Cortex", Brain119: 593-609.
Grene, M. y E. Mendelsohn(eds.) (1976), Topics in the Philosophy of Biology, Dordrecht: Springer.
Hernández Chávez, P. (2016), Modularidad cognitiva y especialización cerebral, México: CEFPSVLT.
Hodos W. y A.B. Butler (1997), "Evolution of Sensory Pathways in Vertebrates", Brain, Behavior and Evolution50(4): 189-197.
Kim, J.(1992), "Multiple Realization and the Metaphysics of Reduction", Philosophy and Phenomenological Research52: 1-26.
Medina L. y A. Reiner (2000), "Do Birds Possess Homologues of Mammalian Primary Visual, Somatosensory and Motor Cortices?", Trends in Neurosciences23(1): 1-12.
Nieuwenhuys, R., Donkelaar, H.J.T. y C. Nicholson (2014), The Central Nervous System of Vertebrates, Vol.3, Dordrecht: Springer.
Northcutt, R.G. (1984), "Evolution of the Vertebrate Central Nervous System: Patterns and Processes", American Zoologist24(3): 701-716.
Piccinini, G. y C. Craver (2011), "Integrating Psychology and Neuroscience: Functional Analysis as Mechanism Sketches", Synthese183(3): 283-311.
Preuss, T.M. y G.Q. Coleman (2002), "Human-Specific Organization of Primary Visual Cortex: Alternating Compartments of Dense Cat-301 and Calbindin Immunoreactivity in Layer 4A", Cerebral Cortex12(7): 671-691.
Putnam, H. (1967), "Psychological Predicates", en Capitan, W.H. y D.D. Merrill (eds.), Art, Mind, and Religion, Pittsburgh: University of Pittsburgh Press, pp. 37-48.
Shagrir, O.(1998), "Multiple Realization, Computation and the Taxonomy of Psychological States", Synthese114: 445-461.
Shapiro, L.A. (2000), "Multiple Realizations", Journal of Philosophy97: 635-654.
Shapiro, L.A. (2004), The Mind Incarnate, Cambridge: MIT Press.
Sullivan, J. (2016), Natural Kinds and Classification in Scientific Practice, Abingdon, NY: Routledge.
Striedter, G.F. (2005),Principles of Brain Evolution, Massachusetts: Sinauer Associates.
Thompson, D.W. (1959), On Growth and Form,Vol. I, reimpresión de 1917, Cambridge: Cambridge University Press.
Wilczynski, W. (1984), "Central Neural Systems Subserving a Homoplasious Periphery", American Zoologist24(3):755-763.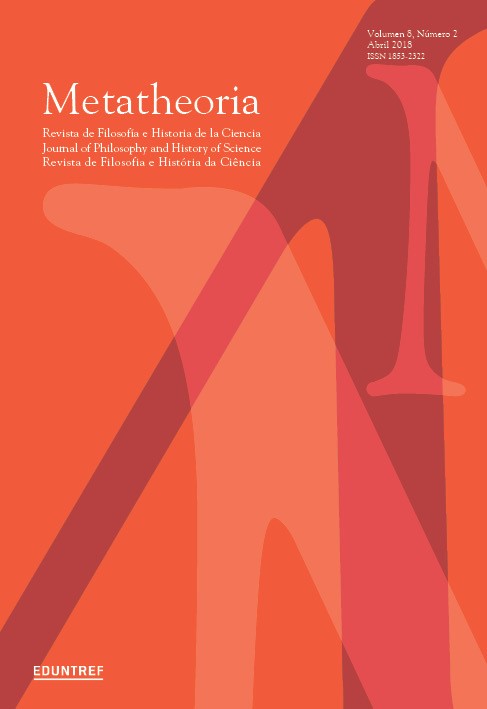 Descargas
Cómo citar
García Campos, J., Hernández Chávez, P., Martínez, M., & Soto López, R. (2018). Clases naturales en la neurociencia cognitiva: la controversia continúa. Metatheoria – Revista De Filosofía E Historia De La Ciencia, 8(2), 37–50. https://doi.org/10.48160/18532330me8.174
Licencia
Los documentos aquí publicados se rigen bajos los criterios de licencia Creative Commons Argentina.Atribución - No Comercial - Sin Obra Derivada 2.5