Redes y paisajes conceptuales en la Evo-Devo
Palabras clave:
sistemas de representación, pluralismo epistemológico, pluralismo ontológico, Evo-Devo, teoría sintética de la evolución
Resumen
El texto revisa diferentes estrategias que se han empleado para (i) trazar una línea de demarcación entre la Teoría Sintética de la Evolución y la Biología Evolutiva del Desarrollo (Evo-Devo) y (ii) estructurar la diversidad interna de la Evo-Devo. A continuación, se ilustra, mediante tres ejemplos, la forma en que los sistemas de representación usados en Evo-Devo plasman diferentes supuestos suyos. Finalmente, se discuten las dos principales metáforas con las que se ha pretendido caracterizar la situación actual de la Evo-Devo y se aboga en favor de un enfoque pluralista.
Citas
Amundson, R. (2005), The Changing Role of the Embryo in Evolutionary thought: Roots of Evo-Devo, Cambridge: Cambridge University Press.
Annunziata, R., Perillo, M., Andrikou, C., Cole, A., Martinez, P. y M. Arnone (2014), "Pattern and Process During Sea Urchin Gut Morphogenesis: The Regulatory Landscape", Genesis52(3): 251-268.
Arnoult, L., Su, K., Manoel, D., Minervino, C., Magriña, J., Gompel, N. y B. Prud'homme (2013), "Emergence and Diversification of Fly Pigmentation through Evolution of a Gene Regulatory Module", Science339(6126): 1423-1426.
Arthur, W. (2000), "The Concept of Developmental Reprogramming and the Quest for an Inclusive Theory of Evolutionary Mechanisms", Evolution & Development2(1): 49-57.
Bavister, B.D.yJ.M. Squirrell (2000), "Mitochondrial Distribution and Function in Oocytes and Early Embryos",Human Reproduction15(2): 189-198.
Bertalanffy, L. (1972), "TheHistory and Statusof General Systems Theory", The Academy of Management Journal 15: 407-426.
Bianchi-Frias, D., Orian, A., Delrow, J., Vazquez, J., Rosales-Nieves, A. y S. Parkhurst (2004), "Hairy Transcriptional Repression Targets and Cofactor Recruitment in Drosophila", Public Library of ScienceBiology2(7): e178.
Bonner, J.T. (ed.)(1982), Evolution and Development. Report of the Dahlem Workshop on Evolution and Development,Berlin-Heidelberg-New York: Springer.
Bonner, J.T. (1955), Cells and Societies,Princeton: Princeton University Press.
Brigandt, I. (2007), "TypologyNow: Homology and Developmental Constraints Explain Evolvability", Biology & Philosophy22(5): 709-725.
Callebaut, W., Müller, G.B. y S.A. Newman (2007), "The Organismic Systems Approach: Evo-Devo and the Streamlining of the Saturalistic Agenda", en Sansom,R. y R.N. Brandon (eds.) (2007),Integrating Evolution and Development: From Theory to Practice, Cambridge: MIT Press pp. 25-92.
Caltech Archives (2009/2011),The Drosophila Drawings of Edith M. Wallace,recuperado el 30 de marzo de 2015 de http://archives.caltech.edu/news/wallace.html
Carroll, S.B. (2008), "Evo-Devo and an Expanding Evolutionary Synthesis: A Genetic Theory of Morphological Evolution", Cell134(1): 25-36.
Casanueva, M. (2010), "Qué es la Biología", en Pérez Tamayo,R. (coord.), Discusiones sobre la vida y la biología, Cuadernos del Seminario de Problemas Científicos y Filosóficos, México: Siglo XXI-UNAM, pp. 41-78.
Casanueva, M., Folguera G. y M. Peimbert (2013), "Jerarquías integración y complejidad en biología, unposible marco para la evo-devo",Contrastes. Suplemento 18:127-142.
Casanueva, M. y M. Martínez (2014),"Marcos causales y síntesis teóricas en biología",Acta ScientiaeCanoas16(2): 330-344.
Conklin, E. (1905), "The Organization and Cell Lineage of the Ascidian Egg", Journal of the Academy of Natural Sciences13: 1-119.
Crow, J.F. (2008), "Commentary: Haldane and Beanbag Genetics",International Journal of Epidemiology37(3): 442-445.
de Beer, G.R. (1940), Embryos and Ancestors, Oxford: Clarendon Press.
Della, P., Souer, E.y R. Koes (2014), "Arguments in the Evo-Devo Debate: Say it with Flowers!", Journal of Experimental Botany65(9): 2231-2242.
Emmeche, C., Køppe, S. yF. Stjernfelt (1997), "Explaining Emergence: 'Towards an Ontology of Levels'", Journal for General Philosophy of Science28: 83-119.
Filion, G., van Bemmel, J., Braunschweig, U., Talhout, W., Kind, J., Ward, L., Brugman, W., de Castro, I., Kerkhoven, R., Bussemaker, H. y B. van Steensel (2010), "Systematic Protein Location Mapping Reveals Five Principal Chromatin Types in Drosophila Cells", Cell143(2): 212-224.
Fischer, A.H. y J. Smith (2012), "Evo-Devo in the Era of Gene Regulatory Networks", Integrative and Comparative Biology52(6):842-849.
Fujii, S., Nishio, T. y H. Nishida (2008), "Cleavage Pattern, Gastrulation, and Neurulation in the Appendicularian, Oikopleura dioica", Development Genes and Evolution218: 69-79.
Gazave, E., Lapébie, P., Richards, G., Brunet, F., Ereskovsky, A., Degnan, B., Borchiellini, C., Vervoort, M. y E. Renard (2009), "Origin and Evolution of the Notch Signaling Pathway: An Overview from Eukaryotic Genomes", BioMed CentralEvolutionary Biology9(1): 249.
Gehring, W.J. (1985), "The Homeobox: A Key to the Understanding of Development?", Cell40: 3-5.
Gerson, E.M. (2015), "The Interaction of Research Systems in the Evo-Devo Juncture", en Love,A.C. (ed.) (2015),Conceptual Change in Biology: Scientific and Philosophical Perspectives on Evolution and Development, Berlin: Springer, pp.441-457.
Gilbert, S.F. (2000), "Diachronic Biology Meets Evo-Devo: C.H. Waddington's Approach to Evolutionary Developmental Biology", American Zoologist40(5): 729-737.
Gilbert, S.F. (2003a), "Evo-Devo, Devo-Evo, and Devgen-Popgen", Biology and Philosophy18(2): 347-352.
Gilbert, S.F. (2003b), "The Morphogenesis of Evolutionary Developmental Biology", International Journal of Developmental Biology47, 467-477.
Gilbert, S.F. (2009), The Adequacy of Model Systems for Evo-Devo: Modeling the Formation of Organisms/Modeling the Formation of Society,Netherlands: Springer.
Gilbert, S.F. (2013), A Companion to Developmental Biology, Sutherland: Sinaeur and Assoc. (También disponible en http://10e.devbio.com/. Las imágenes de Conklin fueron consultadas el 30 de marzo de 2015 en: http://10e.devbio.com/article.php?ch=1&id=3.)
Gould, S.J. (1977), Ontogeny and Phylogeny, Cambridge: The Belknap Press of Harvard University Press.
Gould, S.J. (1990), Wonderful Life: the Burguess Shaleand the Nature of History,New York: W.W.Norton & Company.
Hall, B.K. (2003), "Evo-Devo: Evolutionary Developmental Mechanisms",International Journal of Developmental Biology47(7/8): 491-496.
Hall, B.K. y W.M. Olson (2003), Keywords and Concepts in Evolutionary Developmental Biology,Cambridge:Harvard University Press. Hamburger, V. yH.L.
Hamilton (1951), "A Series of Normal Stages in the Development of the Chick Embryo", Journal of Morphology88(1): 49-92.
Hendrikse, J.L., Parsons, T.E. y B. Hallgrímsson (2007), "Evolvability as the Proper Focus of Evolutionary Developmental Biology", Evolution & Development9(4): 393-401.
Hoßfeld, U.y L. Olsson (2003), "The Road from Haeckel: The Jena Tradition in Evolutionary Morphology and the Origins of 'Evo-Devo'", Biology &Philosophy18(2): 285-307.
Houliston, E., Pickering, S.J. y B. Maro (1987), "Redistribution of Microtubules and Pericentriolar Material During the Development of Polarity in Mouse Blastomeres", The Journal of Cell Biology104(5): 1299-1308.
Jablonka, E. y M.J. Lamb (2005/2014), Evolution in Four Dimensions: Genetic, Epigenetic, Behavioral, and Symbolic Variation in the History of Life, Cambridge: MIT press.
Keller, E.F. (2000), "Models of and Models for: Theory and Practice in Contemporary Biology", Philosophy of Science67: S72-S86.
Keller, E.F. (2002), "Language in Action: Genes and the Metaphor of Reading",en Dörries,M. (ed.),Experimenting in Tongues: Studies in Science and Language,California: Stanford University Press, pp. 76-88.
Kitchen, J.L. y R.G. Allaby (2013), "Systems Modeling at Multiple Levels of Regulation: Linking Systems and Genetic Networks to Spatially Explicit Plant Populations", Plants2(1): 16-49.
Krisher, R.L., Schoolcraft, W.B. y M.G. Katz-Jaffe (2015), "Omics as a Window to View Embryo Viability", Fertility and Sterility103(2): 333-341.
Lakoff, G.y M. Johnson (1980/2003), Metaphors We Live By, Chicago: University of Chicago Press.
Lakoff, G y M. Johnson(1999), Philosophy in the Flesh: The Embodied Mind and its Challenge to Western Thought,New York: Basic Books.
Lakoff, G. y R.E. Núñez (2000), Where Mathematics comes from: How the Embodied Mind Brings Mathematics into Being, New York: Basic books.
Laland, K.N., Odling-Smee, J. y S.F. Gilbert (2008), "Evo-Devoand Niche Construction: Building Bridges",Journal of Experimental Zoology Part B: Molecular and Developmental Evolution310(7): 549-566.
Laland, K.N., Sterelny, K.,Odling-Smee, J., Hoppitt, W. y T. Uller (2011), "Cause and Effect in Biology Revisited: Is Mayr's Proximate-Ultimate Dichotomy still Useful?", Science334(6062): 1512-1516.
Laland, K., Uller, T., Feldman, M., Sterelny, K., Müller, G.B., Moczek, A. y J.E. Strassmann(2014), "Does Evolutionary Theory Need a Rethink?", Nature514(7521):161-164.
Laubichler, M.D. (2010), "Evolutionary Developmental Biology offers a Significant Challengeto the Neo-Darwinian Paradigm",en Ayala, F.J.yR. Arp (eds.), Contemporary Debates in Philosophy of Biology, Sussex, U.K.: John Wiley & Sons, pp.199-212.Laubichler, M.D. y J. Maienschein (eds.) (2007), From Embryology to Evo-Devo: AHistory of Developmental Evolution, Cambridge, MA: MIT Press.
Leung, M.(2004), Chicken Embryo, recuperado el 30 de marzo de 2015 de http://www.microscopyuk.org.uk/mag/artnov04macro/mlchicken.html,Fotografías del embrión de pollo en cámara de agua.
Lewis, E.B. (1978), "A Gene Complex Controlling Segmentation in Drosophila", Nature 276: 565-570.
Longabaugh, W.J. (2012), "BioTapestry: ATool to Visualize the Dynamic Properties of Gene Regulatory Networks", Gene Regulatory Networks,New York: Humana Press, Springer.
Love, A.C. (2015a), "Evolutionary DevelopmentalBiology: Philosophical Issues",en Huneman, P.y M.Silberstein (eds.), Handbook of Evolutionary Thinking in the Sciences,Netherlands: Springer, pp. 265-283.
Love, A.C. (2015b), Conceptual Change and Evolutionary Developmental Biology,Berlin: Springer.
Love, A.C. y R.A. Raff (2003), "Knowing your Ancestors: Themes in the History of Evo-Devo", Evolution & Development5(4): 327-330.
Maro, B., Johnson, M.H., Pickering, S.J. y D. Louvard (1985), "Changes in the Distribution of Membranous Organelles During Mouse Early Development", Journal of Embryology and Experimental Morphology90(1): 287-309.
Martínez, M. y M. Esposito (2014), "Multilevel Causation and the Extended Synthesis", Biological Theory9(2): 209-220.
Mayr, E. (1959), "Where Are We?", Cold Spring Harbor Symposia on Quantitative Biology24: 1-14.
Minelli, A. y J. Baedke (2014), "Model Organisms in Evo-Devo: Promises and Pitfalls of the Comparative Approach", History and Philosophy of the Life Sciences36(1): 42-59.
Morgan, T.H. (1917), "The Theory of the Gene", American Naturalist51: 513-544.
Mormino, K.S.(2011), Chicken Embryo Development, recuperado el 30 de marzo de 2015 de http://www.the-chicken-chick.com/2011_04_01_archive.html.
Moulines, C.U. (1994), "¿Qué clases de cosas hay?", en Gómez Pín,V. (comp.),Categorías e inteligibilidad global (Actas del Primer Congreso Internacional de Ontología), Bellaterra:Universitat Autònoma de Barcelona, pp. 25-33.
Müller, G.B. (2007), "Evo-Devo: Extending the Evolutionary Synthesis", Nature Reviews Genetics8(12): 943-949.
Müller, G.B. (2014), "Evo-Devo Shapes the Extended Synthesis", Biological Theory9(2): 119-121.
Neurath, O. (1932), "Protocol Statements", en Ayer,A. (ed.) (1959),Logical Positivism, New York: Free Press. (Traducción castellana:El Positivismo Lógico,México:Fondo de Cultura Económica, 1978, pp. 260-261.)
Nishida, H. (2008), "Developmentof the Appendicularian: Culture, Genome, and Cell Lineages", Development, Growth & Differentiation50: S239-S256.
Noble, D. (2006), The Music of Life: Biology Beyond Genes, Oxford: Oxford University Press.
Noble, D. (2015), "Evolution Beyond Neo-Darwinism: ANew Conceptual Framework", The Journal of Experimental Biology218(1): 7-13.
Odling-Smee, F.J., Laland, K.N. y M.W. Feldman (2003), Niche Construction: The Neglected Process in Evolution, Princeton: Princeton University Press.
Pick, L. y A. Heffer (2012), "Hox Gene Evolution: Multiple Mechanisms Contributing to Evolutionary Novelties", Annals of the New York Academy of Sciences1256(1):15-32.
Pigliucci, M. (2009), "An Extended Synthesis for Evolutionary Biology", Annals of the New York Academy of Sciences1168(1): 218-228.
Pigliucci, M. y G. Muller (2010), "Elements of an Extended Evolutionary Synthesis", en Pigliucci,M. y G.B. Müller (eds.),Evolution: The Extended Synthesis,Cambridge, MA: MIT Press, pp. 1-17.
Plutynski, A. (2008), "Explaining how and Explaining Why: Developmental and Evolutionary Explanations of Dominance", Biology & Philosophy23(3): 363-381.
Polutry CRC (2006), Chicken Embryo Development,recuperado el 30 de marzo de 2015 de http://www.poultryhub.org/embryo/.
Prud'homme, B., Minervino, C., Hocine, M., Cande, J., Aouane, A., Dufour, H., Kassner, V. y N. Gompel (2011), "Body Plan Innovation in Treehoppers Through the Evolution of an Extra Wing-Like Appendage", Nature473(7345): 83-86.
Prud'homme, B. (2013), Evolutionand Development of Morphology and Behavior, recuperado el 30 de marzo de 2015 de http://www.ibdm.univ-mrs.fr/equipe/evolution-and-development-of-morphology-and-behavior
Putnam, H. (1981), Reason, Truth and History, Cambridge: University Press.
Raff, R.A. (2000), "Evo-Devo: the Evolution of a New Discipline", Nature Reviews Genetics1(1): 74-79.
Robert, J.S. (2002), "How Developmental is Evolutionary Developmental Biology?", Biology &Philosophy17(5): 591-611.
Sakkas, D., Katz-Jaffe, M.G. y C.E. Sueldo (2014), Gamete and Embryo Selection: Genomics, Metabolomics and Morphological Assessment, Dordrecht: Springer.
Saudemont, A., Haillot, E., Mekpoh, F., Bessodes, N., Quirin, M., Lapraz, F., Duboc, V., Röttinger, E., Range, R., Oisel, A., Besnardeau, L., Wincker, P. y T. Lepage (2010), "Ancestral Regulatory Circuits Governing Ectoderm Patterning Downstream of Nodal and BMP2/4 Revealed by Gene Regulatory Network Analysis in an Echinoderm", Public Library of ScienceGenetic6(12): e1001259.
Sethi, A.J., Wikramanayake, R.M.,Angerer, R.C., Range, R.C. y L.M. Angerer (2012), "Sequential Signaling Crosstalk Regulates Endomesoderm Segregation in Sea Urchin Embryos", Science335(6068): 590-593.
Sturtevant, A.H. (1921), "Genetic Studies on Drosophila Simulans. II. Sex-linked Groupof Genes", Genetics6(1): 43.
Swalla, B.J. (2006), "Building Divergent Body Plans with Similar Genetic Pathways", Heredity97(3): 235-243.
Weiss, P.A. (1950), "Perspectives in the Field of Morphogenesis", Quarterly Review of Biology25: 177-198.
Winther, R.G. (2015), Evo-Devo As a Trading Zone, Netherlands: Springer.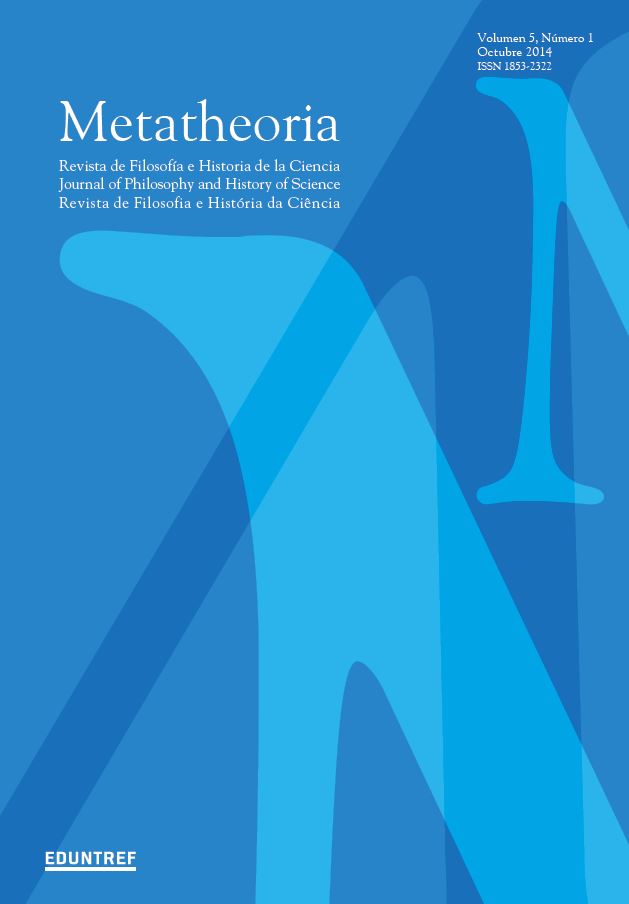 Descargas
Cómo citar
Casanueva, M. (2014). Redes y paisajes conceptuales en la Evo-Devo. Metatheoria – Revista De Filosofía E Historia De La Ciencia, 5(1), 83–97. https://doi.org/10.48160/18532330me5.134
Licencia
Los documentos aquí publicados se rigen bajos los criterios de licencia Creative Commons Argentina.Atribución - No Comercial - Sin Obra Derivada 2.5